Latino Bridal & Quince GIRL Expo
Events for all budgets and new attractions at its 2020 EXPO Tour
The longest running bridal and quinceañera expo in Texas, the Latino Bridal & Quince Girl Expo is ready to begin its 2020 Tour in its 23rd year. Produced by Strategic Events, the Latino Bridal & Quince Girl Expo is part of the larger National Tour presented in Spanish & English across seven cities, starting in Dallas and ending in Los Angeles. The best in wedding and quinceañeras is all in one place in one day of convenient shopping. If you are looking for best values and bargains this is the place to be.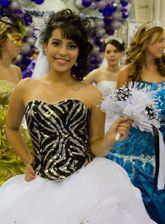 The quinceañera and wedding day represent important rites of passage in the Latino culture. Whether you are a young señorita looking forward to her quinceañera, or a young woman in love planning her wedding, all women know the commotion that precedes their big day. Turning the dream that's been slowly building itself in your mind over the last few years into reality is quite a feat, especially when you factor in family, in-laws, parents, budget and time constraints.
It is more important than ever to conserve the spirit of celebration while adjusting to current times. The LATINO BRIDAL & QUINCE GIRL EXPO keeps the budget conscious consumer in mind, with the presentation of exciting new dresses, financial advice, and an array of discounts on all your event needs. Despite the recession, Hispanics are more confident in the economy than the general market according to a recent study from consumer research firm BIGresearch and Televisa Publishing/Digital. In rating their confidence in the US economy, Hispanics ranked 13.1% higher than compared to the general market.
This year's Latino Bridal & Quince Girl Expo offers women and their families the opportunity to comparison shop in one convenient day allowing families to save valuable time and gas money as compared to taking multiple trips. With almost 200 different vendors: bringing the best variety of photographers, dress shops, travel agencies, videographers, florists, DJs, limousine providers, cadet troupes, choreographers, quinceañera planners and hairstylists within easy reach of every Latina bride and quince girl. All your event needs are under one roof and the variety of businesses guarantees the best deal, helping even the most budget conscious families attain peace of mind and hopefully a bargain or two. Some of the most important elements you will find at the expo and should consider for your upcoming celebration are:
Venue - Every special day needs a special place. Some prefer an outdoor garden setting, or if you have lots of family and friends a banquet hall may be the perfect location.

Catering - Great food is a trademark of your big event and is sure to keep your guests happy and leave them with fond memories of your day. If you don't already have a caterer, don't overlook this big detail, you don't want your tías cooking for 200 people.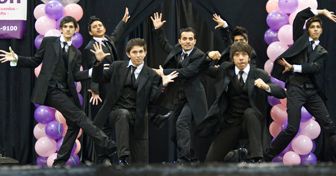 Entertainment - Once the ceremonies are done and people are fed, the real party begins. The latest in entertainment will keep everyone dancing long into the night. DJs will supply the best music, video and lighting, mariachi bands and trios are the traditional fare. Live performances by chambelanes dance troupes and bands excite the activities for the quinceañeras.
Look your best - No dream day is complete, unless the quinceañera or bride looks like a vision in that dream. During the Expo, make-up artists and hairstylists perform mini make-overs so the quinceañeras and brides may try a new look for their special day. Receive tips and demos on how to best apply your makeup for that fresh new look, too.
Fashion - Amazing fashion shows will help you solve your styling dilemmas this year. Dress pavilions and shows will showcase the newest trends in quinceañera, bridal gowns and the latest in prom dresses for young ladies to see and try on. This year dress stores and manufacturer lines will present the latest line of bridal, quince, 1st communion and flower girl dresses. The presenters have tried to make the best of themes and display dresses that fit every girl's personality and party theme. Couture custom designers have designed the best for the quinceañera dress scene.
Prizes - One lucky quinceañera will win a Grand Prize Give Away of over $1250 from presenting sponsor, State Farm Insurance. The package includes a dress, accessories, cake, photography and limo service. Strategic Events, the producers of the Latino Bridal & Quince Girl Expo, will also sponsor a Grand Prize Give Away for one lucky bride valued at more than $1000. What a better way to start planning for your event… must be present to win!!

The Latino Bridal & Quince Girl Expo is open to everyone with a small entrance fee of $8 and all children under 10 are FREE. Brides, quinceañeras and the whole family are invited to attend the fun-filled day of activities, and fashion shows. All presentations are done in Spanish and English and are designed to help families begin planning their wonderful event or find their finishing touches. The Latino Bridal & Quince Girl Expo is partnering with some amazing companies to help start off the 2020 tour with a bang.
We use the most popular media to promote each EXPO in the 7 major markets. The media includes billboards, radio TV, Magazines and street promotion.
For more information, call the Latino Bridal & Quince Girl Expos at 214-824-7495 a Strategic Events Production.
| | |
| --- | --- |
| We are a full service agency that can handle all or part of your outreach programs. Strategic Events is solution driven. From comprehensive strategic planning, program management, creative concept development, public relations, media and advertising campaigns to special events, conferences, promotions and anything in between. | |
| | Strategic Events provides turn-key services that make your budget look like more than the dollars spent. |